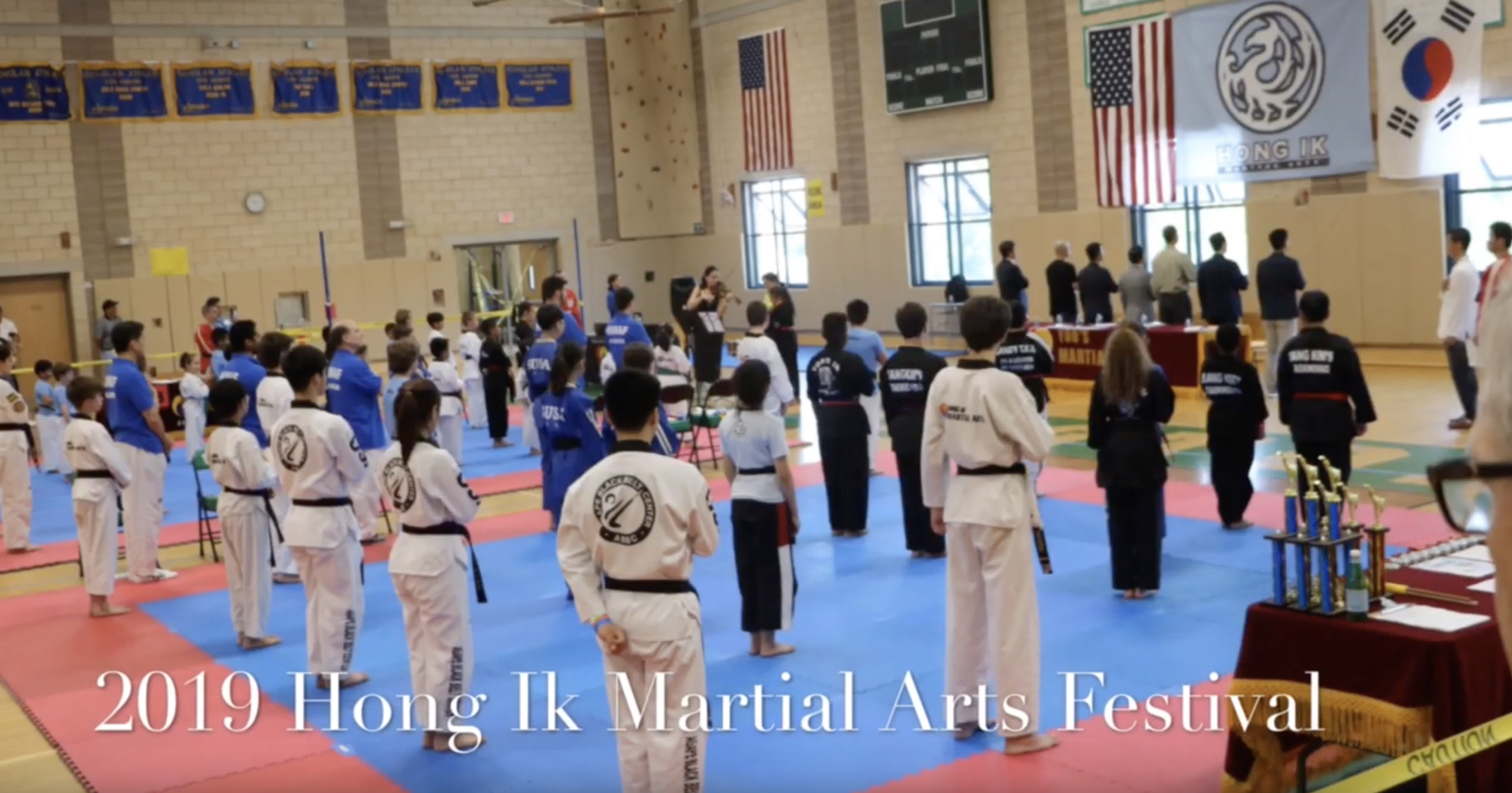 HONG IK MARTIAL ARTS FESTIVAL – June 8, 2019
HONG IK MARTIAL ARTS FESTIVAL – June 8, 2019
Irvington High School
On Saturday June 8th the 9TH annual HIMAF competition was held in Irvington High School. Approximately 160 students competed, including participants from 9 other schools from across the tristate NY, CT and NJ areas.
Seven renowned Grand Masters travelled from as far as Rochester, NY and even South Carolina to partake in this unique festival. The Opening Ceremony recognized the Grand Masters and volunteer judges with special certificates of appreciation. The ceremony also included heartwarming instrumental versions of both the American and Korean national anthems, performed on violin and percussion by two Tarrytown students (Sabina and Saya) with the guidance of one parent, Julie Goldberg.
Following a group warm-up the competition was underway in four separate rings, with individual competitors performing their chosen form and board breaking. Team competition was next and consisted of friends, siblings, and even parent/child groupings. All competitors were awarded either a commemorative 1st or 2nd place trophy or a commemorative HIMAF medal.
We would like to thank all participating schools: White Tiger Taekwondo (CT), Jeon's White Tiger Taekwondo (NJ), Agape Black Belt Taekwondo (NY), Yong In Elite Taekwondo (NJ), Sang's Yong In Martial Arts (NY) and our five Hong Ik Martial Arts locations (Tarrytown, Fairlawn, New Rochelle, Mahwah, and Bronxville). A special thanks to all Grand Masters in attendance: Jae Hyung Jeong, Sang Wan Kim, Jun Ho Song, Jun Kyu Kim, John Ra, Kwan J. Ji, and Hyo Y. Jeon. We also thank all volunteers and parents for their unwavering support in making this another memorable festival.
We congratulate all competitors for representing Hong Ik Martial Arts with great etiquette, fellowship and team spirit!
— Written by Chun Shim HyunSa (Carlos Stern)