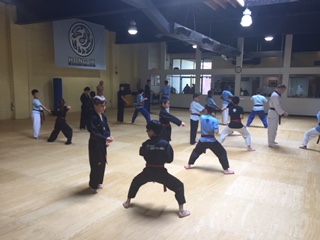 Black Belt Test candidates special class part.3 Self defense
1) Strength
– Maintain solid basic fitness so that you are able to execute the self-defense method with proficiency. Pushups, situps, pullups, and leg squats are exercises that can help.
2) Fast Reaction
– Once you've drilled a self-defense move enough, respond to the attack with instinct and speed. Swiftness training without thought will further increase the practical application of what you learned inside the Dojang, outside of it, if needed in an emergency situation.
3) Remain Composed
– Being tense can cause you to overreact, which can then make you vulnerable to a different attack from an opponent. Be alert, but also stay relaxed.
written by Master Shin Min(Patrick Malonso)