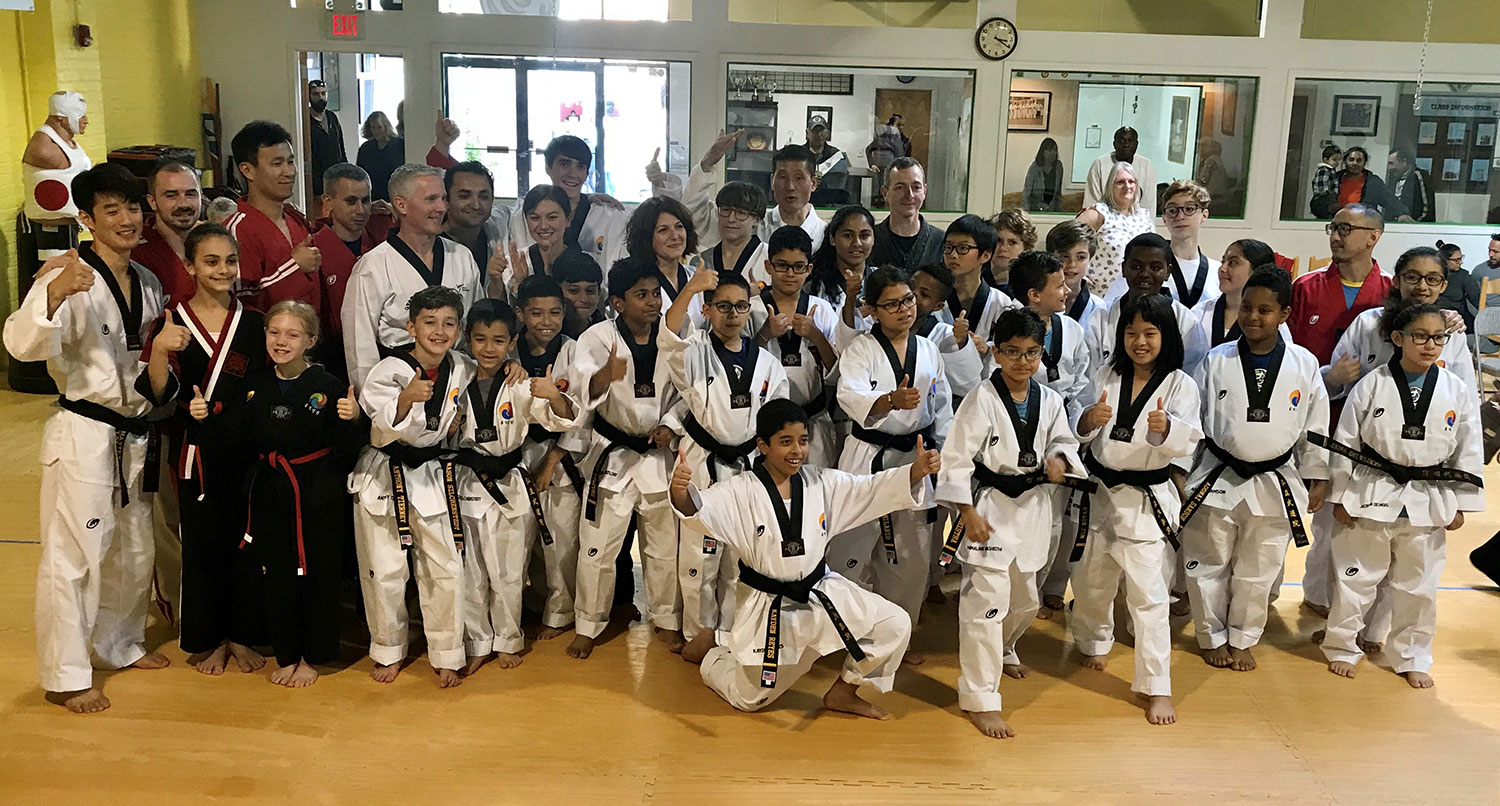 October 2019 Indoor Test & Black Belt Ceremony
On Saturday October 26th the Black Belt Ceremony was held in Tarrytown for those who tested in October 2019. Twenty-one candidates were awarded their 1st Degree Black Belt (Il Dan), and seven candidates moved up to 2nd degree rank (Yi Dan). Last but not least, three candidates reached the prestigious rank of 4th degree Master (Saa Dan)!
As reported last month, the outdoor test was held on Sunday October 6th. The indoor test followed six days later on October 12th and covered multiple forms, kicking combinations, and self-defense. One-step sparring and falling techniques were also evaluated for Yi Dan and Saa Dan candidates, with heavy bag drills reserved for Saa Dan candidates. All candidates joined in on full contact sparring, timed holding posture, and board breaking.
The October 26th Black Belt Ceremony featured the formal rank promotion of each candidate. Facing Master Myung Duck and Master Kim, traditional bows were exchanged and new belts and uniforms were awarded. Newly appointed Master James Molloy shared his 20+ year history with Hong Ik Martial Arts including the benefits reaped by his family. Newly appointed Master Sara Simonetti shared how HIMA has provided guidance in her life and in her relationships with others. Saya Aizeki-Nevins and Joseph Francois also provided insight into their experience and appreciation for the benefits HIMA has brought to their lives.
We congratulate all black belts on their major accomplishment and wish to thank all family members and friends who offered countless support to help make this journey possible!
Warmest Regards,
Hong Ik Martial Arts
— Written by Chun Shim HyunSa