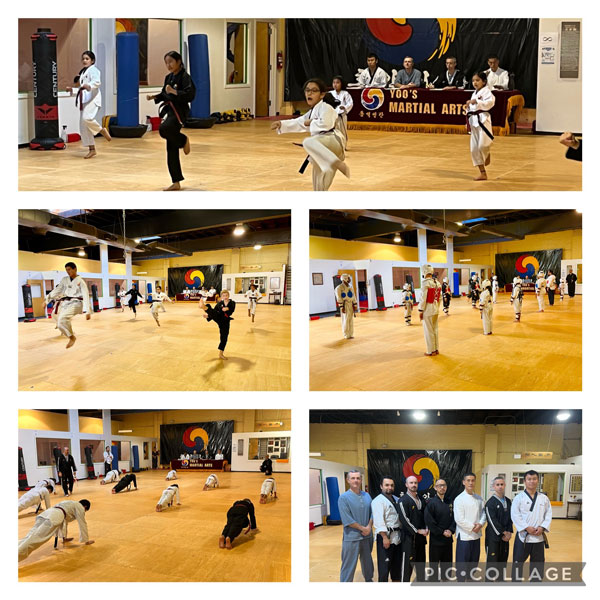 Hong Ik Martial Arts – October 2022 Black Belt Indoor Test
On Saturday, October 15th twenty-one candidates took part in the indoor portion of the Hong Ik Martial Arts Black Belt Test.
Nineteen candidates tested for 1st Dan, and two tested for 2nd Dan. Following a 6-day break from the outdoor portion of the test, candidates arrived with full uniform and sparring gear. After a brief warmup including stretches, punches and basic kicks, candidates were tested on their forms (poomsae), and multiple kicking combinations. 2nd Dan candidates also demonstrated their required 1-step sparring techniques as well as specialty kicks on focus targets and shields held by assisting Masters. This section of the test concluded with designated dummy kicking sequences, followed by free style dummy kicking.
The next portion of the exam involved Olympic style sparring. Instead of the customary multiple 30 second rounds, candidates were asked to endure a single uninterrupted round of 3 minutes of sparring, putting their endurance and perseverance to the test. After the sparring portion and brief Sushik breath control, candidates removed their sparring gear and prepared for their required board breaking techniques. At this point, parents who were patiently observing and cheering from the waiting area eagerly joined their children to assist in holding the wooden boards.
The Back Belt Test concluded with push-up holding posture, with a minimum requirement of 3 minutes for 1st Dan candidates and 4 minutes for 2nd Dan candidates. Both tests were quite remarkable and unique, revealing how focused energy and perseverance can transcend perceived limitations. The youngest (9-year-old) candidate and the most senior one (a grandfather of four), held their holding posture the longest, surpassing 6 minutes!
We congratulate all candidates for reaching another milestone, and we thank all HIMA parents and friends for their ongoing unwavering support along the way!
– written by: Chun Shim HyunSa (Master Carlos Stern)