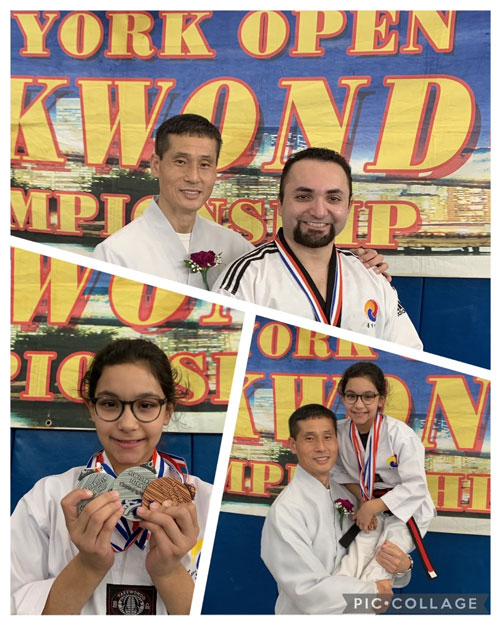 2022 New York Open Taekwondo Championship
On Saturday October 29th I prepared to teach classes at Hong Ik Martial Arts of Brewster. It was a busy Saturday with several students showing up. At the end of classes I warmed myself up and stretched. It was the day of the NY Open Tournament in Riverdale at the College of Mount Saint Vincent. Funny enough, I wasn't nervous. I had competed in several tournaments over the years and I simply wanted another experience, like a kid going to a festival; a festival he's been to all of his life.
Upon arrival I hoped my bracket for poomse and board breaking hadn't finished. I figured I'd scout the tournament and draw inspiration for the Sparring competition for next year's tournaments. As I made my way in, I managed to find my bracket and greeted Grand Master Yoo. It was a warm welcome for both of us. I was also greeted by one of our students from Tarrytown, Chloe Asencio! It was an uplifting moment to see both my master and student at the tournament. As I proceeded to encourage Chloe and discuss with Grand Master Yoo, I heard over the speakers "Final call for Jorge Delgado!" It was my turn.
I made my way over to my ring and was instructed by the Judges to perform my 2 poomsae, Koryo and Taeguk Paal Jang. I won 1st place. I wasn't expecting to win 1st today but I was happy. I then made my way over to congratulate Chloe, who won 2nd place in sparring and board breaking, and 3rd place in poomsae. She did phenomenal.
I was disappointed to learn that my division for board breaking and sparring had ended in the morning, and that I was unable to scout and see some high-level sparring. But as I said my goodbyes to the Asencio family and Grand Master Yoo that day, I was thankful for the day and for the opportunity to enjoy another great tournament and fellowship.
– written by: Master Jorge Delgado