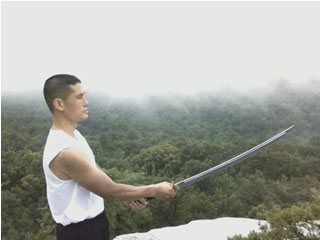 Master Yoo's Meditation Trail
Directions to Minnewaska State Park Preserve
Use http://maps.google.com for directions. Your destination is Peters Kill, Ulster, New York
Once you are on NY-55 West / U.S. 44 East, after approximately 8.8 miles you need to reach Peter's Kill parking lot. On your way there you need to go past the steel bridge and the West Trapps parking lot, past Clove Road, past Trapps Road, and then look for Peter's Kill parking lot entrance of Minnewaska on the right.
The gate to Peter's Kill parking lot opens at 9am. When you pay for parking ($8), ask for a trail map.

Trail to Scenic Vista:
Start on the Red trail (RL) and within 3-5 minutes turn right onto the White trail (BW). Please pay attention as this turn is easy to miss. From here on don't make any right turns! The White trail turns into the HPK trail. Make a left turn onto the Blue trail (HPK).
Continue to follow HPK trail and you will reach the Scenic Vista.
Total time: ~25 minutes from Peter's Kill parking lot to Scenic Vista.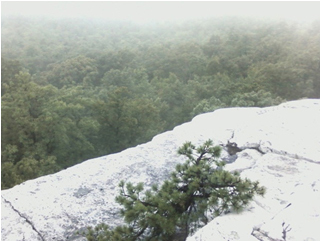 Stage 1:
Relax and enjoy the view, fresh air, wind, trees and sky
Gradually try to fully harmonize with nature
Find a comfortable spot to sit on your towel, eyes looking downwards towards your nose
release negative energy by inhaling through the nose (4 seconds) and exhaling through the teeth (6 seconds)
gradually switch to nose only breathing (5 seconds in, 5 seconds out)
slowly extend your danjun breathing, but without forcing (ask Master Yoo for details)
Continue for approximately 20 minutes
Trail to Peter's Kill "Mini" Falls:
Now you can resume your journey towards Peter's Kill stream and "mini" falls.
Continue on HPK trail and you will reach Peter's Kill stream (all downhill). Do not cross over Peter's Kill stream. Turn left onto the yellow connector. Follow the yellow connector along the stream and take the Red trail (RL). Follow the Red trail until you reach the "mini" falls.
Note: Do not go the actual Peter's Kill Falls (further upstream) as it is dangerous and closed to the public
Total time: ~10 minutes from yellow connector to "mini" falls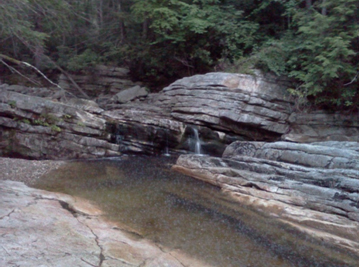 Stage 2:
Find a comfortable flat stone to sit on by the Falls, and close your eyes
focus only on the sound of the water fall
Picture your body being fully refreshed, from the Baek-hwe down to the Hoe-Eum
With full concentration you may feel like you are immersed in the stream
With even greater concentration you may experience complete silence and no longer hear the waterfall
Continue for about 20 minutes
Once finished and weather permitting, take a dip into the pure water (fast drying shorts recommended)
Relax and have lunch with your family or friends right by the stream.
When you are ready to go, follow the Red Loop back to Peter's Kill parking lot (about 10 minutes).
Total estimated time at Peter's Kill: 3h10min
About 1 hour hiking distance
About 40 minutes of meditation
About 1½ hours of picnic time
Total estimated driving time: 3h20min (roundtrip)
Recommend departure time from Tarrytown: 7:00am
Recommend departure time from Fair Lawn: 7:15am
Items to bring in your back-pack:
.two bottles of water
two towels (used for sitting while meditating)
Sneakers with good traction for hiking
Long white socks and "Off" spray for protection from bugs/ticks
Sandwich for lunch
Fast-drying shorts if you plan on getting into the water at the falls
Please leave your comments on Yoo's Martial Arts Facebook by going to www.yoosma.com and clicking on the Facebook link.