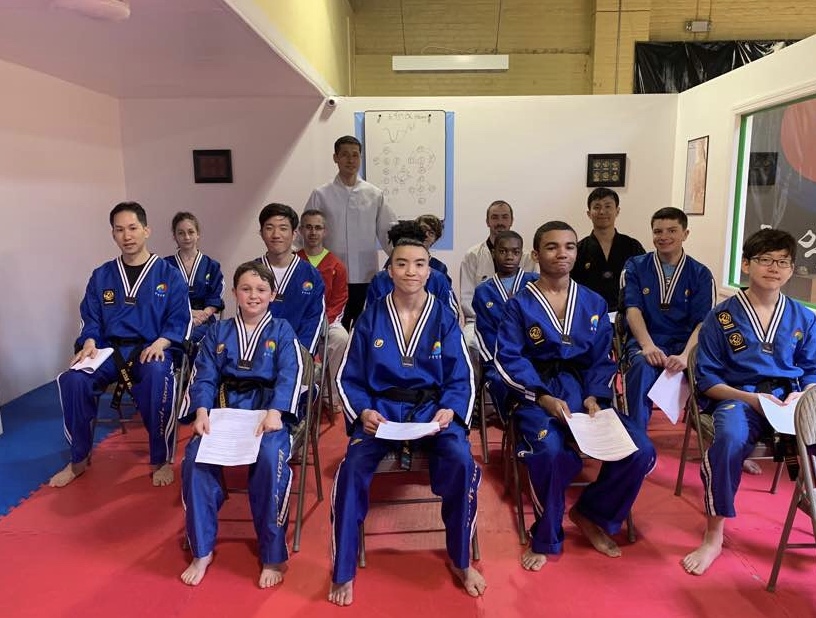 HST April 14 – Hong Ik Martial Arts of Mahwah, NJ
Hong Ik Martial Arts of Mahwah, NJ
HST-Hyunsa and SuSa Training
Sunday April, 14th, 2019

Each month, the Hong Ik Martial Arts community holds training for the Hyunsa (Masters) and SuSa (Instructors). The training typically takes place at the Tarrytown Location and is led by Grand Master Yoo. Each HST class is different and a variety of Martial Arts, Kigong, partner exercises and drills are practiced during these classes. The classes are finished with a lecture on Martial Arts Philosophy. Classes are designed to give the Hyunsa and SuSa's a deeper understanding of martial arts, as well as suggest better ways to teach and help their students and peers.
On Sunday, April 14th, 2019, HST Class was held at the Tarrytown location between the hours of 1:00PM-3:00PM. All Hyunsa and SuSa met and did a group warm up. Grand Master Yoo began the class by doing partner clapping drills which are designed to reduce distractions and increase ones concentration. Grand Master Yoo then began teaching a blocking and punching routine which incorporated some of the philosophy from previous HST lectures. This punching routine requires focus, balance and a deep understanding of Um and Yang in order to successfully practice. Susa and Hyunsa were then partnered up and practiced pad drills to increase agility and speed while changing directions. Just before finishing, the class was divided into 4 groups, each Hyunsa helped the SuSa's better their Jumping Back Hook kick.
The class then moved to the small room where Grand Master Yoo began his lecture. This lecture was a recap on the Martial Arts Philosophy of Oh Haeng. Tae-Guk being the harmony between the two forces of Um and Yang, can be symbolized by 5 Elements, tree, fire, metal, water and earth. These elements in one order have a creative cycle, while in another order have a destructive cycle. This philosophy can be applied to our seasons on earth and also the characteristics of human beings. For example, a tree represents spring and compassion, fire represents summer and passion/respect, metal represents autum or justice, and water represents winter or wisdom. The earth element, soil, holds all characteristics and elements combined which fosters trust. For more information about this and to get a deeper understanding for yourself, see Master Yoo's Training Guide on the Hong Ik Martial Arts website.
HST classes are held once a month. Hyunsa and SuSa all benefit greatly from taking these classes and look forward to the coming HST classes!
Written by JiSun Hyunsa (Master Joe Lipman – Mahwah Location NJ)