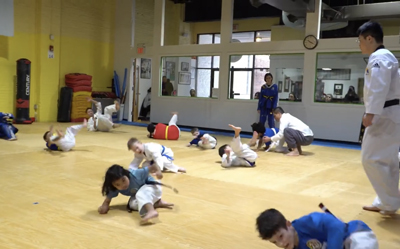 Hong Ik Martial Arts Tumbling Workshop – February 2023
Tumbling Workshop – February 2023
The 3rd HIMA Tumbling Workshop was held on February 25, 2023. Grandmaster Yoo organized the instruction program for all attendees. He was assisted by Master Shinmin and Master Jorge. This was our first combined Level 1 and Level 2 training.
The day began with warmups from SUSA Leadership students Sophia and Diana. To unify and pump up everybody's energy Grandmaster Yoo led basic horseback stance punching and kicking. Next was a basic somersault. Once this skill was established, Level 1 students studied with Master Shinmin. Their curriculum consisted of the somersault, shoulder roll, and backrolling. Level 2 trainees studied with Master Jorge. Level 2 practice consisted of Hoi Jun Bup #1 (front silent roll), Hoi Jun Bup #2 (front roll to standing position), and combination Hoi Jun Bup (front to back roll consecutively executed).
After exhibiting adequate understanding of their appropriate level tumbling techniques, the event concluded with flying side kick and Su Shik Ki Gong. Various HIMA practitioners contributed their sincere efforts to motivate one another. Certifications of Completion for Level 1 or Level 2 were awarded respectively. We hope everyone had a blast and onwards to level 3 this summer!
– written by Shinmin HyunSa (Master Patrick Malonso)