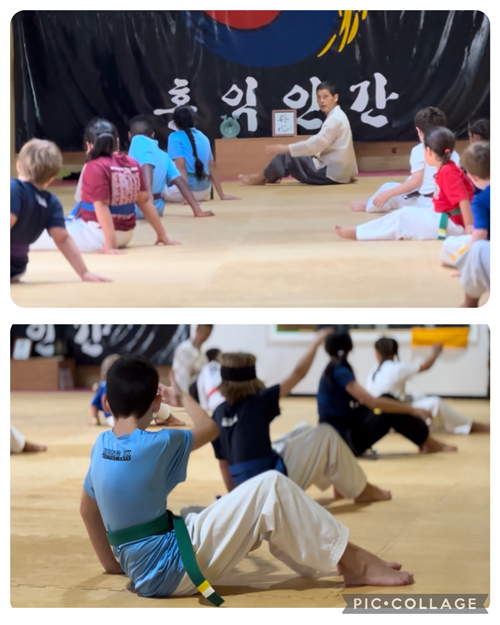 Hong Ik Martial Arts Tumbling Workshop – August 2023
The 4th HIMA Tumbling Workshop was held on August 26, 2023. Grandmaster Yoo organized the instruction program for all attendees. He was assisted by Master Shinmin and Master Jorge. Susa/Musa Leadership members to additionally help were Isabella, Dayana, and Sophia. This was our second combined Level 1 and Level 2 training.
Grandmaster Yoo led basic horseback stance punching and kicking to energize the group. The following skills were then taught: 1) Somersault 2) Forward Shoulder Roll 3) Backwards Shoulder Roll.
Once this skill was established, Level 1 students studied with Master Shinmin and Level 2 trainees studied with Master Jorge in the second training room. Level 1 trainees went into finer details on how to break down and successfully complete the skills initially gone over. In comparison to the last workshop, there was more self-training time allotted so Hong Ik Hyunsas and Susa/Musa Leadership members could better cater to any individuals struggling with any of the curriculum. Level 2 trainees briefly reviewed L1 skills but soon after went into the learning of Hoi Jun Bup #1 (front silent roll), Hoi Jun Bup #2 (front roll to standing position), and combination Hoi Jun Bup (front to back roll consecutively executed).
After exhibiting adequate understanding of their appropriate level tumbling techniques, the event concluded with 2 bonus kick and roll combination skills, flying side kick, and Su Shik Qigong. Certifications of Completion for Level 1 or Level 2 were awarded respectively. Next Up in early 2024 – The First HIMA Level 3 Tumbling Workshop!!!
 - written by: Shinmin HyunSa (Master Patrick Malonso)