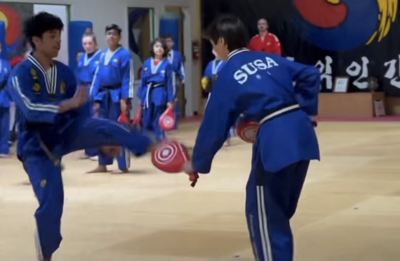 Hong Ik Martial Arts of Tarrytown: HST March/April 2023 HIMAF Demo Team
Our Taekwondo dojang has been working hard to prepare for a demonstration at the upcoming 10th Hong Ik Martial Arts Festival. ("HIMAF").
During the past two HST (HyunSa and Susa Training) held on March 19th and April 16th, members from our HIMA SuSa and MUSA programs gathered to prepare to display their Taekwondo skills. HIMAF Demo Team members first practiced hard at mastering the basics of the demonstration skills, perfecting both their postures and techniques. They also teamed up with their peers to improve their fellowship and teamwork. The Demo Team did a great job at harnessing their mental strength and deep concentration to keep perfecting their demonstration routine. All members worked hard to push themselves beyond their limits, and as a result, they were able to make tremendous progress and raise their performance to new levels.
The upcoming HIMAF will feature both martial arts competitions and performances. This festival will give you a chance to experience the beauty and power of martial arts. We look forward to this and upcoming future collaborative events with great anticipation.
We wish all of our students the best of luck and look forward to seeing you at the Masters School in Dobbs Ferry on May 6th. Let's have a great HIMAF together!
Written by Oh HyunSa Nim (Master Seungmin Oh)