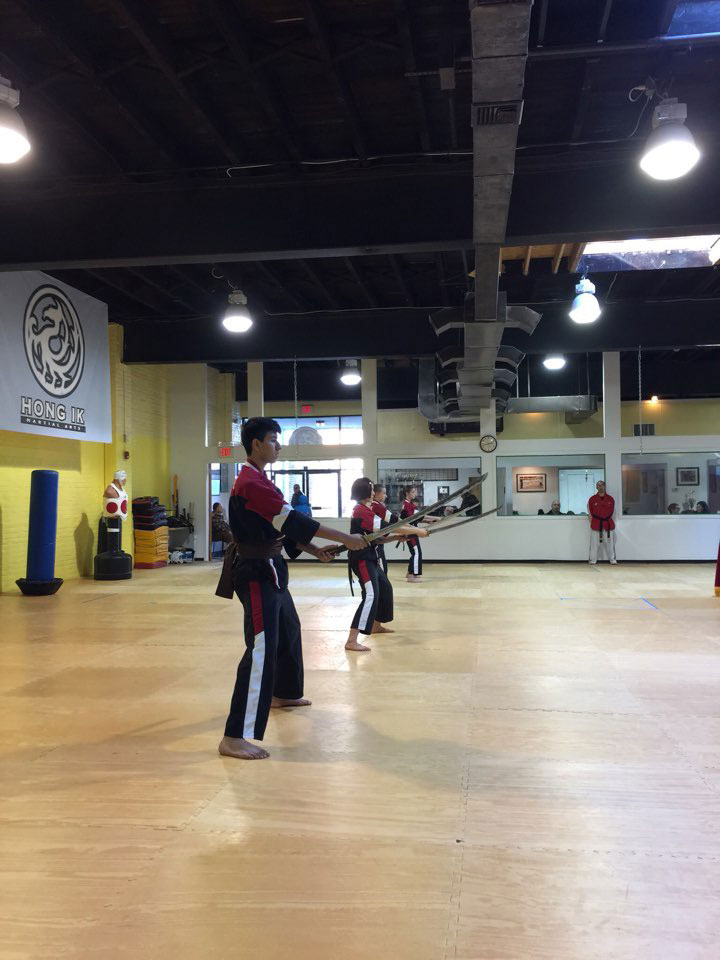 Hong Ik Martial Arts of Bronxville MUSA rank promotion test
MUSA are Hong Ik Martial arts students who engage in the deep study of martial arts. It is a highly selective program which requires the students to pass a rigorous test to become a member. The MUSA students' studies include:
– Olympic Style Sparring where they are encouraged to compete in tournaments.
– Kum-Ye-Do, an ancient Korean Swordsmanship which improves concentration through in-depth weapon skills.
– Demonstration Techniques which help to improve confidence in their technical skills.
– Street Fighting which is a collection of practical techniques from various martial arts, this class is used to enhance the students ability to defend oneself if need be.
The purpose of joining the MUSA program is to enhance each student's physical abilities, and to grow their confidence through training in the various skills. A more important component of the MUSA program is the requirement for them to contribute back to their community. As MUSA, the students share what they have learned and give encouragement to others through demonstrations, helping with promotion tests, and encouraging other students in learning new skills.
MUSA tests are held once a year in October. This is the time where current MUSA must demonstrate their skills in order to advance, or stay as their current rank for another year. This is also the time when students who are interested in joining are able to test to join the MUSA program.
The test for new candidates involves demonstrating a series of physical skills to show strength, confidence, and a high level of concentration. To be eligible, new candidates must complete the following:
– 21 push-ups using proper form
– 36 self sit-ups where no one is holding the candidate's feet
– Perform a series of kicks and blocks in an obstacle course
– Test their reaction through a series of pad kicking drills
For current MUSA students testing for their next rank, they haveadditional requirement s to demonstrate the skills they have been learning. This includes:
– Proper sword technique
– Heavy bag drills using practical street fighting techniques
– Sparring, one on one and two on one
Because this is an optional course for advanced training, the students and candidates who choose this path are motivated, focused, and highly energetic. While not every student passes the challenging test requirements on their first attempt, they always give their best effort in both the promotion test and the trial test with a positive mindset.
This year's candidates demonstrated their focus, energy, and commitment during the testing. This year 2 new candidates were invited to join the program. Congratulations to all the candidates and existing MUSA on your hard work and dedication.
Written by Master Myung Duk (Drew Vanover)