TAE KWON DO BIRTHDAY PARTY
Invite your friends to join the birthday challenge! Your regional Master would like to celebrate your birthday with a party just for you. Have your birthday with us and learn about the martial arts birthday challenge. Children of all ages can enjoy a memorable birthday party at Hong Ik Martial Arts.
Parties include full use of our facility with one hour of coaching, games and demonstrations by Hong Ik Martial Arts Demo Team. The fun and festivities will continue with a ½ hour set aside for party food and birthday cake. It's sure to be a long remembered, happy celebration.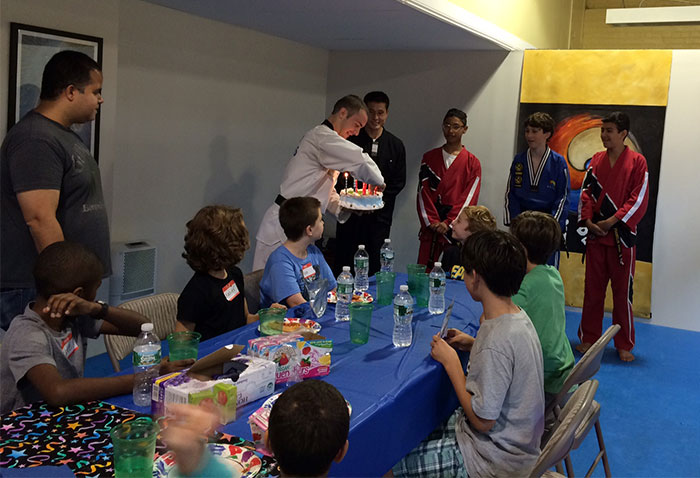 TIME AND SPACE
Parties are scheduled on Saturday's at 1:00pm and 3:30pm. Dates and times must be reserved in advance. All parties are 1½ hour in length.
PARTY PACKAGE
$350.00 for 1-10 children.
Additional guests: 11 and up $10.00 per person
$175.00 non-refundable deposit
• Tae Kwon Do lesson and demonstration by members of our demo team and Black Belts.
• Age appropriate martial arts games and activities
• Invitations
• Set-up and Clean-up
Cake, decorations, supplies, food, drink boxes or bottled water may be brought in.
Invitations, with a waiver, are included in the package. Parents must sign and return the waiver prior to the party. All parents must sign the waiver for their child to participate in the birthday party.
We see that you have a special day approaching and all of us at Hong Ik Martial Arts would like to wish you a very happy birthday!
Your regional Master would like to celebrate your special day with you!
Share your Tae Kwon Do spirit with your friends and family in a traditional Korean martial arts birthday celebration.
Challenge your friends to the gates of the
Dragon, Eagle, Tiger and Sky!!!
Hong Ik Martial Arts Demo Team and birthday celebrant join together for a surprise performance including a board breaking demonstration.
HAPPY BIRTHDAY from all of us at Hong Ik Martial Arts
Schedule Your Taekwondo Birthday Party Today!
Hong Ik Martial Arts
http://HongIkmartialarts.com